Athearn Genesis - HO Coupler Conversions
NOTE:
Our conversions typically requiring the least modification to a model. The How To Instructions and Diagrams are based of the Standard Coupler; they will still be a good guide for the Whisker® & Other suggested coupler options. Always check the coupler heights with either our
#205
or newer
#206
Coupler Height Gauge.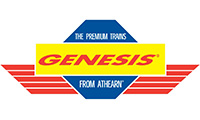 Newer HO-Scale Models with Factory Knuckle Couplers will not be listed. They are easily converted by using our #148 or "scale" head #158 Whisker® Couplers.



**Note: Some manufacturers now produce models with non-industry standard coupler pockets. These shallower coupler pockets may require slight modification to the gearbox or coupler to function properly. If the model has a removable gearbox it can be replaced with a Kadee® gearbox. If the model has a molded-on gearbox, the coupler shank may be filed thinner to fit.
Whisker® Metal Coupler
Standard Coupler
Other Coupler Options
#28, #58
or
#118, #119, #158
#28, #58
or
#118, #119, #158
#28, #58
or
#118, #119, #158

#158

4-8-8-4 Big Boy - Closer Coupling

#153

#158

4-8-8-4 Challenger - Closer Coupling

#153

#28, #58
or
#118, #119, #158

4-8-2 Mt-4 4-8-4 FEF 4-6-6-4 Challenger

#36 Pilot

#38 Rear

#146 Pilot or #148 Rear
in a
#252 Gearbox

#38

#148 or #158
in a
#252 Gearbox

#146

#28

#26

#28, #58
or
#118, #119, #158

EMD SD80MAC GEN2.0 EMD SD90MAC-H GEN2.0 SD-70ACU EMD F2 EMD F3 EMD F7 EMD F9 EMD FP7 EMD F45 EMD FP45 EMD SDP40F GEN2.0 EMD GP7 EMD GP9 EMD GP18 EMD GP15-1 EMD GP15T EMD GP38-2 EMD GP39-2 EMD GP40-2 EMD GP39X EMD GP49 EMD GP50 EMD SD45-2 EMD SDP45 EMD SD60E GEN 2.0 EMD SD60I EMD SD60M EMD SD70 EMD SD70I EMD SD70M EMD SD70MAC EMD SD70ACe EMD SD70M-2 EMD SD75M EMD SD75I EMD DDA40X EMD MP15AC Switcher GE Dash 9-44CW GE AMD103/P42DC GE ES44AC GEVO GE ES44DC GEVO GE Slab Side Turbine GE U50

#142

#22

#178

#28, #58
or
#118, #119, #158
#28, #58
or
#118, #119, #158

Auto-Max NACC Boxcar PC&F with Landis Doors Boxcar PC&F with Youngstown Doors Boxcar PC&F with 10' Plug Door Boxcar PC&F with 14' Plug Door Boxcar Sieco Boxcar PC&F RBL All Configurations Boxcar Berwick Boxcar FMC Boxcar Gunderson Boxcar ICC Boxcar PS Auto Parts Boxcar ICC All Configurations Caboose ACF 4600 3-Bay CenterFlow Hopper 5161 cu ft Trinity Hopper GATC 2600 Airslide Hopper 89' F89F Flat Car 89' F89F Auto Rack Flat Car 57' FGE Mechanical Reefer 13,600 Gallon NACC Acid Tank Car 50' GATC 20,000 Gallon Tank Car 33,900 Gallon LPG Tank Car TankTrain Tank Car

#28, #58
or
#118, #119, #158

77' Chair Car
Anywhere a NO.5® is listed, the #28, #58 or #118, #119, #158, #148 Whisker Coupler can be used in its place.
*Our conversion's based on only one model from a production run, there may be inconsistencies in a model's production run that require a different coupler or model modifications to achieve the proper coupler height for coupler function.
** Metal Coupler Note: It is not recommended to use a metal coupler directly on a metal surface to avoid the possible electrical crossover or shorting that may cause damage.