Athearn RTR - HO Coupler Conversions
NOTE:
Our conversions typically requiring the least modification to a model. The How To Instructions and Diagrams are based of the Standard Coupler; they will still be a good guide for the Whisker® & Other suggested coupler options. Always check the coupler heights with either our
#205
or newer
#206
Coupler Height Gauge.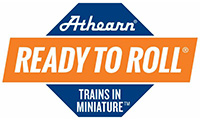 Newer HO-Scale Models with Factory Knuckle Couplers will not be listed. They are easily converted by using our #148 or "scale" head #158 Whisker® Couplers.



**Note: Some manufacturers now produce models with non-industry standard coupler pockets. These shallower coupler pockets may require slight modification to the gearbox or coupler to function properly. If the model has a removable gearbox it can be replaced with a Kadee® gearbox. If the model has a molded-on gearbox, the coupler shank may be filed thinner to fit.
Whisker® Metal Coupler
Standard Coupler
Other Coupler Options
#28, #58
or
#118, #119, #158

Old Time 2-6-0 Mogul Old Time 2-8-0 Consolidation Old Time 4-4-0

#28, #58
or
#118, #119, #158

#33

#143
in a #252 Gearbox

#38

#36

#148
in a #252 Gearbox

or

#146
in a #252 Gearbox
w/plow

#33

#143
in a #252 Gearbox

#147

#27

#28, #58
or
#118, #119, #158
#28, #58
or
#118, #119, #158

EMD GP 40X EMD GP 60M/B EMD SD-38 EMD SD-39 EMD SD-40 EMD SD-40T-2 EMD SD-45 EMD SD-45T-2 EMD SD-50 EMD SD-60 EMD SW1000 Switcher EMD SW1500 Switcher

#28, #58
or
#118, #119, #158
#28, #58
or
#118, #119, #158
#28, #58
or
#118, #119, #158

Auto Max Double Door Boxcar Express Boxcar Modern Boxcar Outside Braced Boxcar All Steel Single Door Variants Boxcar Superior Door Boxcar Youngstown Door Boxcar ACF Combo Door Boxcar Express Boxcar Evans Double Plug Door Boxcar FMC 5347 Railbox Boxcar FMC Combo Door Boxcar FMC Centered Double Door Boxcar FMC Offset Double Door Boxcar FMC Plug Door Boxcar NACC Boxcar PS 5277 Boxcar PS 5344 Boxcar FGE Superior Door Boxcar FGE Youngstown Door Boxcar Single Sheath Boxcar Berwick Boxcar FMC Boxcar Gunderson Boxcar ICC Boxcar ACF 2970 Covered Hopper FMC 4700 Covered Hopper PS 4740 Covered Hopper PS2 2600 Covered Hopper PS2 2893 Covered Hopper Trinity 3 Bay Covered Hopper 40' Derrick Flat Car 60' Flat Car 60' Bulkhead Flat Car 85' Flat Car 52' Mill Gondola 65'6" Mill Gondola Bathtub Gondola Bethgon Coalporter Gondola Thrall Gondola 56' Well Intermodal Maxi I Well Intermodal Maxi III Well Intermodal Husky Stack Well Intermodal 57' Trinity Spine Car Intermodal Ore Hopper 3 Bay Rib Side Hopper 3 Bay Offset Side Hopper Ballast Hopper Wood Chip Hopper 5-Bay Rapid Discharge Hopper Pfaudler Milk Car Pickle Car Ice Car PC&F R-70-20 Mechanical Derrick Car 250-Ton Crane with Tender Rotary Snow Plow 62' Tank Car 8,000 Gallon 30' NACC Tank Car 16,000 Gallon Clay Slurry Tank Car 20,900 Gallon RTC Tank Car 30,000 Gallon Ethanol Tank Car

#28, #58
or
#118, #119, #158

Bombardier Coach Cab-Coach 34' Overton Baggage Coach Observationr Railway Post Office (RPO) Passenger Set 50' Overland Baggage Coach Observation Railway Post Office (RPO) Passenger Set 60' Arch Roof Baggage Coach Diner Combine Observationr Railway Post Office (RPO) 70' Standard Business Coach Combine Railway Post Office (RPO) 85' Palace Sleeper Diner Combine Observation
Anywhere a NO.5® is listed, the #28, #58 or #118, #119, #158, #148 Whisker Coupler can be used in its place.
*Our conversion's based on only one model from a production run, there may be inconsistencies in a model's production run that require a different coupler or model modifications to achieve the proper coupler height for coupler function.
** Metal Coupler Note: It is not recommended to use a metal coupler directly on a metal surface to avoid the possible electrical crossover or shorting that may cause damage.