Bachmann - HO Coupler Conversions
NOTE:
Our conversions typically requiring the least modification to a model. The How To Instructions and Diagrams are based of the Standard Coupler; they will still be a good guide for the Whisker® & Other suggested coupler options. Always check the coupler heights with either our
#205
or newer
#206
Coupler Height Gauge.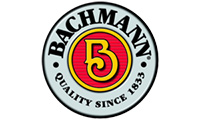 Newer HO-Scale Models with Factory Knuckle Couplers will not be listed. They are easily converted by using our #148 or "scale" head #158 Whisker® Couplers.



**Note: Some manufacturers now produce models with non-industry standard coupler pockets. These shallower coupler pockets may require slight modification to the gearbox or coupler to function properly. If the model has a removable gearbox it can be replaced with a Kadee® gearbox. If the model has a molded-on gearbox, the coupler shank may be filed thinner to fit.
Whisker® Metal Coupler
Standard Coupler
Other Coupler Options

#34 Pilot

#33 Tender

#28, #58
or
#118, #119, #158
Any Medium Centerset Coupler
#28, #58
or
#118, #119, #158
Any Medium Centerset Coupler
Any Medium Centerset Coupler
#28, #58
or
#118, #119, #158

#33

#118, #119, #158

2-10-0 Russian Decapod 2-6-2 Prairie 2-8-4 Berkshire 4-6-2 USRA Light Pacific American 4-4-0 Baldwin 2-8-0 Consolidation Baldwin 4-6-0 GS4 4-8-4 N&W Class J 4-8-4 USRA 0-6-0 USRA Light Mikado 2-8-2

#28

#27

#33

#147
in a
#252 Gearbox

#118, #119, #158

ALC-42 Diesel Electric Charger SC-44 Diesel-Electric EMD E7-A EMD SD70ACE GE ES44AC GP38-2 GP40 SD40-2 GG-1 Siemens ACS-64

#37 Truck Mount

#147 Truck Mount
in a
#252 Gearbox

40' Steam Era Box Car 50' Plug Door 50' Sliding Door ACF 50.5' Outside Braced Evans All-Door FRED 50' Outside Braced Box Car Hi-Cube Box Car w/ Sliding Door Old Time Box Car

#148 or #158
in a
#252 Gearbox

#147
in a
#252 Gearbox

36' Wide-Vision Bay-Window Caboose Northeast Steel Old-Time Bobber Streamlined with Off-Set Cupola

#27

#118, #119, #158

52' Center-Beam Flatcar 52' Center-Depressed 52' Flat Car 52ft Flat Car w/ 35ft Trailer ACF 40' Log Car 40' Gondola 50'6" Drop-End Gondola 4 Bay Cylindrical Grain 40' Quad 55-Ton 2-Bay USRA Outside Braced 56' ACF Center-Flow Bethlehem Steel 100 Ton 3 Bay Canadian Grain Hoppers w/FRED PS-2 Covered Hopper 250-Ton Crane & Boom Tender Blacksmith Car Derrick Car Ore Car Poultry Transport Car Refrigerated Box Cars 40 FT Wood-side Refrigerated 50' Steel Reefer Track Cleaning Wood-Side Reefer Schnabel Car 40' Animated Stock Car 40' Stock Car 40' Single-Dome Tank Car 40' Three-Dome Tank Car Old-Time Tank Car Track-Cleaning Tank Car Test Weight Cars

#38 Truck Mount

#454

#454

#118, #119, #158

1860 - 1880 Era Passenger Car 85' Budd Amfleet 85' Budd Full Dome 89' Colorado Railcar Full-Dome Acela® BusinessClass Car Heavyweight Cars Jackson Sharp Open Excursion Car Open-Sided Excursion Car Smooth-Side Cars

#36 Pilot

#19 Tender

#148 Pilot
in a
#252 Gearbox

#17

#508 Bracket

#148
in a
#252 Gearbox

#148
in a
#252 Gearbox

#148
in a
#252 Gearbox

#118, #119, #158

Canyon Chief Chattanooga Chessie Special Coastliner Digital Commander Durango & Silverton Echo Valley Express Harvest Express Jingle Bell Express McKinley Explorer Norman Rockwell Freedom Train North Pole Express Overland Limited Pacific Flyer Rail Chief Ringling Bros. & Barnum & Bailey™ Greatest Show on Earth Santa Fe Flyer Strike Force Thoroughbred Thunder Chief
Anywhere a NO.5® is listed, the #28, #58 or #118, #119, #158, #148 Whisker Coupler can be used in its place.
*Our conversion's based on only one model from a production run, there may be inconsistencies in a model's production run that require a different coupler or model modifications to achieve the proper coupler height for coupler function.
** Metal Coupler Note: It is not recommended to use a metal coupler directly on a metal surface to avoid the possible electrical crossover or shorting that may cause damage.