Model Railroading is a continually growing hobby beginning sometime in the early 1900's and has grown to the present day and it will continue into the distant future.
Manufactured models began as basic "toy like" models that could hardly be considered representative of the prototypes. Now days we have models that are so accurate that they are compared directly to the prototypes in almost every detail. Unfortunately, couplers did not advance at the same speed as the models and the industry suffered for a long time without a reliable functioning knuckle coupler.
Modelers that have been in the hobby for a long time will remember the situation in the "old days" when, generally, couplers were not very reliable, realistic, or automatic.
When Kadee® Quality Products was formed it was with the idea of providing a reliable, realistic, automatic coupler and since 1947 Kadee® has remained a leader within the hobby. Our earliest version of a knuckle coupler, the "K" series prototype was the first to combine a realistic looking and fully functioning device just like the real ones.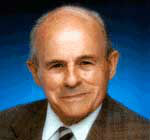 Dale Edwards
Founder & President - Kadee® Quality Products Co.
Kadee® Quality Products Co. History
Dale Edwards, with his twin brother Keith, began making HO turnout kits in 1940, naming their new company with their initials (KADEE). The company suspended production "for the duration" while the brothers served in the Army AIR CORP.
In the late 1940s, they moved their company to Spokane, Washington. After a long Cold winter, they decided to move back to the LA area. There the brothers continued to learn the machinist trade and wanted to develop a scale coupler like the ones they saw everyday on the Big railroad cars. After months of development they took there creation to a local dealer for his approval and feedback. Unfortunately, the dealer said, "you have nothing. Go back to the drawing board and make something that looks and operates like the real thing". Not being ones to give up (Persistence), they put there heads together and came up with a metal knuckle working coupler and brought it back to the hobby shop some 3 months later. The owner said, "Now that's what we need and I will take 3000 pairs".
Now that was a huge undertaking but they were up to the challenge and that creation helped advanced model railroading to an operating hobby. The two continued in innovating products unique to the hobby. The brothers moved their company to Medford, Oregon, in 1955. In 1956, an improved version of the knuckle coupler was the No. 5® with a metal knuckle spring and magnetic action to open and delay the coupler to un-couple and park cars anywhere on a layout. This Patented Design MAGNE-MATIC is the system by which all other companies have tried to emulate.
Now Fully Committed, In 1961, Kadee produced a spiking tool that simplified track laying. This tool was one that worked similar to a large hand stapler that drove miniature spikes over the toe of the rail holding it in place. In the mid 70's they produced a line of freight cars that were noted for their detail and accuracy in N scale (1:160). These Micro-Trains were the finest detailed Ready to Run Rolling stock to be built.
Because of there Innovation & Commitment and TREMENDOUS success over the past two decades the brothers chose to split the company in 1990. Dale Purchased land and built a new building relocating Kadee® Quality Products Company in White City, OR a short distance from the original facility in Medford. He and his oldest Son Larry continued to build Kadee. Dale was the president, Larry, who had worked in the company for over 16 years after graduating from OSU became the Production Manager, Dale's wife was 1st Vice President, the daughters 2nd & 3rd Vice Presidents and the oldest daughter Secretary, rounding out the Board of Directors. The split meant NO More Small Scale Boxcars as that portion of the business went to Micro-Trains.
With the impending expiration of the Coupler Patent in 1997, Dale and Larry knew they would have to be INNOVATIVE and add HO (1:87.1) scale RTR plastic freight cars to the line. This would be a major commitment.
Kadee's patent on the Knuckle coupler expired and a flood of knock off couplers were being created overseas and imported back into the US. Although Kadee® did feel the effects of these cheap imitations, Dale& Larry were determined to develop and Manufacturer the HO Scale PS-1 cars that would set new standards. With a DESIRE & COMMITMENT to LEAPFROG the competition, real innovation in tooling and die-making would be needed for the creation of a metal under-frame, plastic injected detail parts, metal trucks and wheels.
Accuracy, detail & craftsmanship with color matching, meticulous painting, Lettering, operational doors, see through roof-walks and proper NMRA weighting were a must. The critics were amazed that such detail and accuracy could be achieved through plastic injection molding. What was really amazing, was that Kadee® was doing the entire process in house. This was the culmination of many years of research, and painstaking mold making. With over 19 different individual components for each boxcar, these hand assembled cars continue to be the top of the line for the industry.
Each style of model Kadee has produced has been awarded the prestigious "Readers Choice Award" for the best model of the year. In 2000, Kadee continued to pursue excellence in the Model RR industry by improving the ease of use and functionality of the coupler and the creation of another top quality "READY TO RUN" PS-2 Hopper car.
Further development of the knuckle coupler was brought back to life with another Patent for the "Whisker"® coupler which is a wire that allows the coupler to rebound back to center for unmatched coupling and uncoupling. This project had been created in the late 80's however application of the "Whisker" stalled the production until mid 2000's.
December 2003, Dale desired to have his legacy Kadee® Quality Products continue to thrive long after he would be gone and to be entirely owned and operated by family. Due to geographic location of the children's families and Alan being interested and the husband of his youngest daughter was asked if he wanted to make a career change. In March 2004 Alan began to work at Kadee® so Larry could retire in June and Alan took over the day to day operations as General Manager.
Since Dales passing (September 2014) his youngest daughter became the majority owner and her male sibling owns the remaining shares. Dales oldest male grandson had worked part-time while attending college for the Tool & Die Apprenticeship program, in which Dale wrote for the state of Oregon. It was unfortunate that he passed away before seeing his grandson complete the apprenticeship program. Daniel is a full-time Tool & Die maker for his grandfathers company.
Kadee® is responsible for creating more than 40 Patents for which Kadee® still holds several existing ones Including "Self Centering Trucks", "Delayed Magnetic Un-coupling "Electro-Magnetic Un-coupler", "Magnetic Core Actuator", "Truck Pin Post Assembly", "Whisker"® Centering" and "2 Piece Model Railroad Truck". Pending Patents include "Polymer Resign Springs" and other various new designs & ideas.
Kadee® Currently has Registerd Trademarks on: "MAGNE-MATIC®", "THE COUPLER PEOPLE®", "DELAYED MAGNETIC UNCOUPLING®", "KADEE®", "No. 5®" & "WHISKER®".
COUPLER HISTORY
Magne-Matic® coupling and uncoupling system
Kadee® Quality Products Company is proud that its Magne-Matic® couplers are regarded as "the hobby's most respected couplers," and in fact have become "The Standard by Choice" of model railroaders around the world.
The Kadee® "K" coupler was designed with a feature where the coupler is never "locked" in a closed position. This allows the coupler to actually be "coupled" to at anytime and because of this feature the knuckle will flex while negotiating tight curves but still remain securely coupled. This was a major achievement, enthusiastically welcomed by the hobby.
Although a big stride forward, the "K" still required physical contact with a mechanical un-coupler. This was quite conventional for its day but not the most satisfactory arrangement. So after arriving at this acceptable "K" style coupler head with its realism and dependability, the next logical step was to eliminate the physical contact with mechanical uncoupling ramps. This was achieved with the introduction of Magne-Matic® Uncoupling and was a major breakthrough utilizing magnetic force to actuate the coupler. The letter "M" was added to indicate a "K" style coupler operated magnetically and these became our "MK" series.
Not long after this breakthrough, Kadee® developed Delayed-Action Uncoupling. Now it was possible to "spot" cars at most any location without having to actually uncouple them before pulling away. This, however, was not the end of the modelers coupler problems. Now, even with a dependable functioning coupler, the modelers still faced the problems of properly mounting them on the many different types and makes of models, which sometimes required extensive modifications.
Kadee® realized that model manufacturers don't always agree on standards for coupler mounting. Because of this, we developed and now offer the largest variety of coupler box styles, "offset" couplers, and different shank lengths to help compensate for these coupler mounting variations.
Since "all" of our couplers are actuated magnetically we no longer use the "MK" to designate them. We simply use a product number sign such as No. 5® coupler, 20 Series, 30 series or "Whisker"®.
Kadee® Couplers have become the most respected couplers world wide due to constant research and development and a commitment to quality. We are always striving to improve the standards of the model railroading hobby.
ABOUT OUR COUPLERS
Kadee® Magne-Matic® Couplers are usually easy to install and can be adapted to almost any locomotive and rolling stock. Our couplers come with complete assembly instructions. We make over 100 different variations and sizes of couplers to retrofit most all Model Rail Road Products.
KADEE® AUTOMATIC COUPLING AND UNCOUPLING
Kadee® Magne-Matic® Couplers with Delayed-Action Uncoupling offer freedom of operation and realistic prototype train movements, with a minimum of uncoupling devices. It is a complete "Hands Off System" and much more automatic than even those on full-size railroads. No actual hand contact occurs during uncoupling, thus assuring smooth, reliable performance. Our couplers can also be set in a "delayed" position that allows you to "spot" cars anywhere on the layout.
HOW KADEE® COUPLERS AND UNCOUPLERS WORK
The Delayed-Action Couplers are ready to couple at all times—just push two cars together and they automatically "couple up". As two couplers are pushed together, the knuckles pivot aside to bypass each other, then are returned to the closed position by a coil spring, known as the knuckle spring.
Uncoupling with Kadee® Couplers is done over a magnetic "un-coupler" (uncoupling ramp). Uncoupling takes place when mated couplers are pushed to a stop over a magnetic un-coupler. Kadee® Couplers are equipped with a metal wire "trip pin" that curves down from the knuckle of the coupler head. The trip pins are slightly off center so when a pair of couplers are stopped over an un-coupler and slack occurs between the two couplers, the magnetic force of the un-coupler pulls the two trip pins in opposite directions out towards the rails thus opening and "uncoupling" the couplers. If you push or pull the cars away from the magnet, each coupler will automatically snap back to its centered position. (Knowing this, you realize that you "cannot re-couple" over a magnetic un-coupler.) This operation is known as "Magne-Matic uncoupling", a very simple and reliable principle.
Kadee® Couplers are designed so that it requires two conditions to be met for them to uncouple: 1. Positioning the couplers over an uncoupler; and 2. Slack being caused between the couplers. Therefore a train can be pulled over the uncoupler while keeping a steady tension and the cars will not accidentally uncouple.
STANDARDS
The National Model Railroad Association, Inc. (NMRA), is an organization formed in 1935 to bring order out of chaos caused by the lack of standardization in the fledgling hobby of model railroading. It is made up of hobbyists, who have set down the standards accepted and used by the majority in the hobby.
Official NMRA "Standards": Cover basic scale specifications and information on items which are critical to the functioning of model railroads and necessary to the interchange of equipment between Manufacturers and individual layouts.
NMRA "Recommended Practices": Cover items of preferred design that are slightly less critical than those in standards, but are desirable for improved performance and maximum interchange between components.
The standards set down by the NMRA help to standardize the industry, so to speak. They are the basics that most manufacturers try to follow when making model railroad equipment. This enables you to use equipment from different manufacturers and be assured that it will match up.
We at Kadee® follow these NMRA Standards and recommended practices as closely as possible in all of our products. KADEE® is the ONLY Company to ever have a coupler accepted and set as a Standard from the NMRA.
TODAY
Kadee® currently employ's 30+ full-time employee's ranging from assembly workers to machinists, plastic operators and in house print shop.
As a family business we value our employees and there families. Most of our employee's have been with us for over 12 years and some over 20 years.
Kadee® was founded on the simple principals of finding a need, and filling that need with the absolute best possible product made entirely in house. Therefore, any challenges can be rectified internally and decision made by the owners, board members, managers or supervisors can be made in a timely and productive manner.
Kadee® still creates and utilizes equipment that other Manufacturers have junked. We have modified and made machines to meet our needs all the while still manufacturing and distributing over 600 different products all made entirely in our plant in White City, Oregon. This includes our packaging, printed materials, and final finished goods. This facility actually houses a Die-cast Dept, Plastic Injection Dept, Paint/Tampo Print Dept., Machine shop, Full Print Shop, Graphics Dept., R & D Dept, Warehouse, Shipping & Receiving and sales office all under one 22,500 Square ft building. Truly, we do EVERYTHING IN HOUSE.
Kadee® is one of the only manufacturers to entirely make there products from raw materials, molds, assembly and packaging left in the USA.
Kadee® currently serves over 1100 registered Authorized Dealers, 34 Distributors worldwide.
In January of 2006 Kadee® launched a revised website that would now allow commerce for our Authorized Dealers as well as Retail. We realize that the Mom & Pop Hobby stores are what helped build Kadee® and we do NOT undersell or discount our products to Retail Customers. It is nearly a convenience for those who don't have access to a Local Hobby store.

WARNING: Cancer and Reproductive Harm - www.p65warnings.ca.gov

WARNING: CHOKING HAZARD - Small Parts - Not for children under 14 years.
Kadee Quality Products Co. products are not toys and are not intended for children under 14 years old.