Detailed Car Ends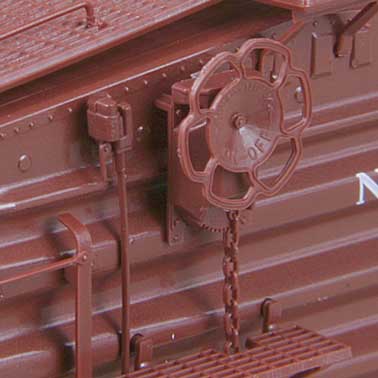 All Kadee® RTR Cars feature incredibly detailed car ends. Accurate hand brake rigging replicates the full-sized cars exactly. Everything, right down to the rivets, is exactly where it should be. You won't find detail this exacting on anything other than Kadee® Cars.
Features:
Highly detailed hand brake wheels
Scale accurate rigging
Scale grab irons
Scale ladders
Acurate rivits
Completely prototypical
The most prototypical car ends in modeling.
Scale Rigging
Our car rigging is extremely accurate. We've made every nut, bolt, and hose to scale for an absolute prototypical look. Details this accurate can only be made in the USA by our tallented Kadee® employees.
Features:
Scale rivets
Scale grab irons
Scale air lines
Scale chains
Scale AB valve
Every component assembled by hand
Made entirely in the USA.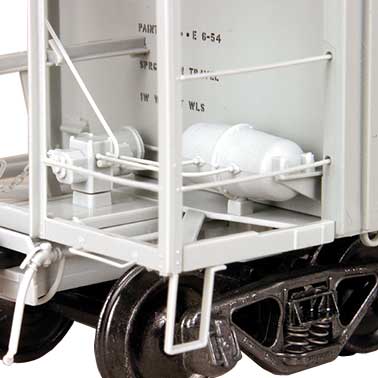 Movable Doors and Hatches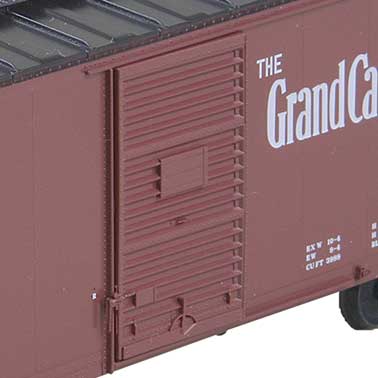 Functional doors and hatches adorn every single Kadee® car. While other model manufacturers mold the doors onto the body, we install real movable doors and hatches. Here at Kadee® we know things that move in real life should move on models too!
Features:
Accurate scale doors
Accurate scale hatches
Fully movable sliding doors
Opening and closing hatches
Prototypical to the last rivet
If it moves in real life, it should move on models too!
Sharp Prototypical Lettering
Our fully-equipped painting department accurately reproduces every letter, word, and logo of the real cars in exquisite detail. Even if you can't read the words with your naked eye, a quick look through a magnifying glass reveals the precision lettering.
Features:
Accurate logos
Fine detailed lettering
Prototypical heralds
Completely legible
Microscopic detail
Perfectly scaled accurate logos and lettering.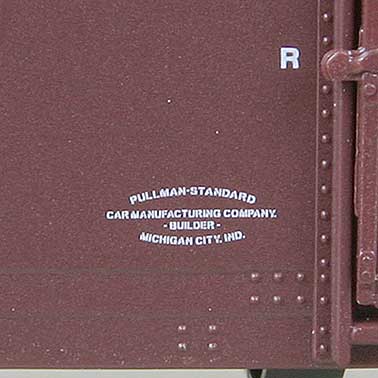 Kadee® Magne-Matic® Couplers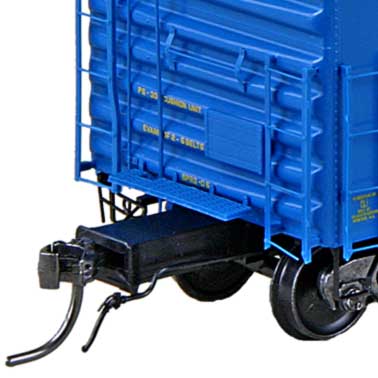 What would a Kadee® Car be without Kadee® Couplers? Every one of our RTR cars comes fitted with our world-famous Kadee® Couplers. Our couplers feature Magne-Matic® coupling and uncoupling for the ultimate modeling experience.
Features:
Functions like real-life couplers
Extremely durable
Scale head size
Compatible with all Kadee® Couplers
Pre-installed and ready to roll
Always made in the USA
All Kadee® Cars feature world-famous Kadee® Couplers.
Kadee® HGC Self-Centering Trucks
Our HGC Self-Centering Trucks are made from a special High Gravity Compound (HGC) that allows for even greater detail and accuracy. The split bolster design maintains efficient truck equalization while the low-friction axel design makes rolling even smoother. Featuring all metal wheels for that authentic sound and operation.
Features:
Superior details and markings
Highly flexible split bolster
Low friction insulated axels
Scale brake pads and brake rigging
All metal wheels
Non-magnetic
Highly detailed scale trucks and wheels.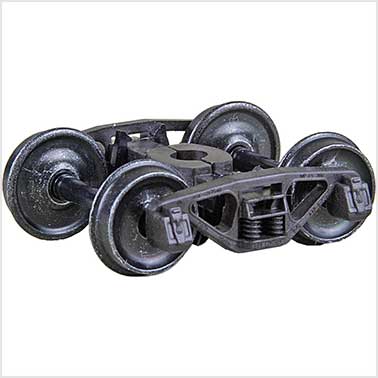 Browse Kadee® RTR Cars