Walthers - HO Coupler Conversions
NOTE:
Our conversions typically requiring the least modification to a model. The How To Instructions and Diagrams are based of the Standard Coupler; they will still be a good guide for the Whisker® & Other suggested coupler options. Always check the coupler heights with either our
#205
or newer
#206
Coupler Height Gauge.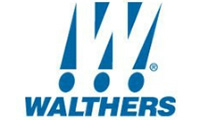 Newer HO-Scale Models with Factory Knuckle Couplers will not be listed. They are easily converted by using our #148 or "scale" head #158 Whisker® Couplers.



**Note: Some manufacturers now produce models with non-industry standard coupler pockets. These smaller coupler pockets may require slight modification to the gearbox or coupler to function properly. If the model has a removable gearbox it can be replaced with a Kadee® gearbox. If the model has an integrated gearbox, the coupler shank may be filed down to fit.
Whisker® Metal Coupler
Standard Coupler
Other Coupler Options
#28, #58
or
#118, #119, #158
#28, #58
or
#118, #119, #158

#38 Rear

#148 Rear or #158 Rear
in a
#252 Gearbox

#28

#148 Rear

#36 Front

#5 Rear

Any Medium Centerset Rear Coupler
#28, #58
or
#118, #119, #158
#28, #58
or
#118, #119, #158

#146

#26

#451

#146

#451

#28, #58
or
#118, #119, #158
Any Medium Centerset Coupler
Anywhere a NO.5® is listed, the #28, #58 or #118, #119, #158, #148 Whisker Coupler can be used in its place.
*Our conversion's based on only one model from a production run, there may be inconsistencies in a model's production run that require a different coupler or model modifications to achieve the proper coupler height for coupler function.
** Metal Coupler Note: It is not recommended to use a metal coupler directly on a metal surface to avoid the possible electrical crossover or shorting that may cause damage.